Events & Agenda
André Rieu in Maastricht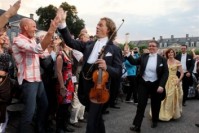 In summer- true to tradition – André Rieu and his Johann Strauss Orchestra will again touch down on the Vrijthof ( square) of his hometown Maastricht.
Also in 2023 Rieu will again transform the whole Vrijthof – as if by magic – into one large open-air concert hall and this will be on:
6, 7, 8, 9, July
13, 14, 15, 16, July
20, 21, 22, 23, July
?, ?, July
Enjoy the lovely melodies, from classical music to compelling walses, from various operas, operettas and musicals. They again promise to be memorable evenings full of comical and touching moments.
But especially : a lot of romance !
Back