Events & Agenda
André Rieu in Maastricht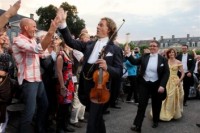 In summer- true to tradition – André Rieu and his Johann Strauss Orchestra will again touch down on the Vrijthof ( square) of his hometown Maastricht.
Also in 2019 Rieu will again transform the whole Vrijthof – as if by magic – into one large open-air concert hall and this will be on:
- 4, 5, 6, & 7 July
- 11, 12, 13, & 14 July
- 19, 20, & 21 July
Enjoy the lovely melodies, from classical music to compelling walses, from various operas, operettas and musicals. They again promise to be memorable evenings full of comical and touching moments.
But especially : a lot of romance !
Reminder events
Below a selection of a deversity of events which will be organised in Eijsden/Maastricht and surroundings:
Saturday 27 april Luik-Bastenaken-Luik ( toertocht) te Luik
Thursday 30 May (Ascension day) KlimClassic ( toertocht) in Maastricht
Sunday 23 juni Bronk Eijsden.
10 May City Centre Trail and 16 June Maastricht Mooiste in Maastricht
The first Sunday of July Bronk Oost-Maarland ; Sundaymorning at 07.00 the "Jonkheid" with brass band will enter the campsite by tradition, keep on mind a little bit noise pullution this morning.
Saturday 20 & Sunday 21 July Diepstraatfeesten in Eijsden.
Wednesday 7 August Ridder Ronde ( profcriterium) in Maastricht.
Thusrday 22 till Sunday 25 August Preuvenemint in Maastricht
Saturday 21 & sunday 22 September Mergelland 2-daagse ( toertocht) in Sint Geertruid
* Evenementen kalender Eijsden-Margraten
* Alle Toertochten Wielrennen
Back