Nature & Cities
Nature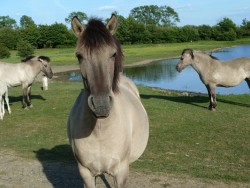 The splendid siting of campingsite ''De Oosterdriessen'' will literally lure you from your tent or caravan. It is situated in the very south of Limburg on the ''Pietersplas'' ( kind of lake) in Oost-Maarland. This area between Maastricht and Eijsden – with its specail fauna and flora – offers the young as well as the old a great many possibilities for relaxation.
The natural area ''De Eijsder Beemden'' with its Konikshorses and Galloway cattle, orchards and open fields offers picturesque vistas. Especially during the blossom period this will deliver beautiful pictures/photos.
The Meuse valley area is well characterized by the gentle slopes of the South Limburg hilly landscape , the Savelsbos ( a wood) with a prehistoric silex ( flint) mine and the Pietersberg with famous marl caves and marl pits..
Not too far away you can enjoy the " Hoge Venen'' with the highest point of Belgium – Signal de Botrange ( 50 kms), the ''Ardennes'' (south of Luik/Liege) or the ''Eifel'' ( south of Aken/Aachen)
The campsite is also a good starting point for the wellknown long distance walks.
Cities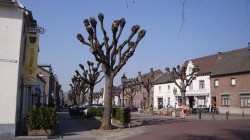 3 kms away ( turn right after leaving the campsite) is the little town of Eijsden, with its historic streets, squares and salient monuments. Eijsden is one of the best preserved ancient places of South Limburg.
The protected townscape and Eijsden Castle are really worth seeing.
Here you can also cross the Meuse - in the direction of Belgium - by bycicle ferry.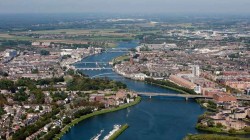 If you turn left after leaving the campsite you will – after 5 kms – reach Maastricht, the capital of Limburg. Maastricht is often called the pearl of Limburg.
This Burgundian city with great style is wellknown for its typical shops, dozens of cosy outside pubs, cafés and restaurants. The extensive collection of big and small monuments in this city is also a fascinating experience for the enthusiast.
The location of ''De Oosterdriessen'' is ideal for visiting a number of foreign cities such as Aachen, Cologne etc.
Luik - 25 KM More info
Visé - 10 KM More info
Aken - 32 KM More info
Monschau - 67 KM More info
Hasselt - 43 KM More info
Tongeren - 27 KM More info
To be active in the region
Through a flat route you can cycle to for instance Eijsden or Maastricht. We also offer you the possibility to hire mountainbikes for a route through the Limburg more hilly landscape.
In the Meuse valley area you can also go and explore and discover the environment by cycle ferry, canoe or by making use of the services of the shipping company stiphout Maastricht.
Besides that there are several mapped out walks, cycle routes and automobile routes for exploring the area.
Back