Attractions
Near campsite ''De Oosterdriessen'' and in the rest of South Limburg there are a number of attractions that are really worth visiting.
GaiaZOO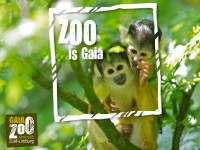 Gaia Zoo offers a breathtaking world of animals and nature. This zoo in the town of Kerkrade (in South Limburg) has been chosen – for four times already – by its public as the ''most beautiful zoo of the Benelux'' and this because of a new and unique zoo concept. In 2013 Gaia Zoo was crowned ''best outing of The Netherlands'' by the ANWB.
Eijsden-Kerkrade is 36 kms ( via motorway) and 34 kms ( via through roads)
Visit website
Continium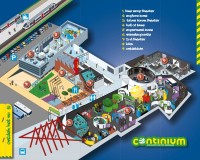 In Continium-Discovery Center Kerkrade visitors can discover what science and technology mean for their daily lives, in the past, present and future.
Eijsden-Kerkrade is 37 kms ( via motorway) and 35 kms ( via through roads)
Snowworld Landgraaf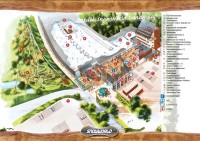 In the town of Landgraaf you will find the world's largest indoor ski resort : Snowworld Landgraaf. There are a number of ski runs that guarantee hours of fun in the snow. Since last year it has been expanded with an outdoor area consisting of a large climbing park, ziplines and adventure trail
Eijsden-Landgraaf is 36 kms ( via motorway) and 34 kms ( via through roads)
Langste trap van Nederland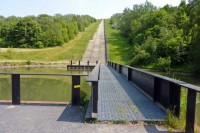 The Wilhelmina berg is the biggest residual mine stone mountain of the staatsmijn ( state mine)Wilhelmina which closed in 1969. The stairs – to the top – are said to be the longest outdoor stairs
in the NL. There are 508 steps and its length is 248 metres, bridging 75 metres. At the top a viewing platform has been created ( height 225 m NAP)
Next to Snowworld!
Wereldtuinen Mondo Verde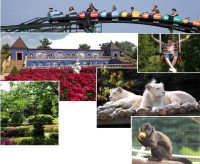 Mondo Verde in Landgraaf is a unique park with four different themes: the wonderful
Worldgardens, the exciting Dinofauna, the versatile fauna and of course great attractions for the kids especially.
Eijsden-Landgraaf is 35 kms ( via motorway) and 36 kms ( via through roads)


Visit website
Drielandenpunt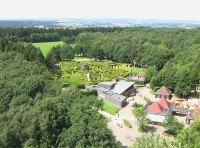 This place is wellknown for the fact that here the borders of three countries meet. It is also the highest point of the Netherlands. Every year this place is visited by lots of people also because of its extensive possibilities for walks through protected nature. Here you can also enjoy many recreational possibilities.
Tip! Via country roads 31KM.

Visit website
Fun Valley & Ballorig speelparadijs Maastricht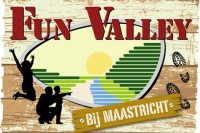 As a neighbour of ''De Oosterdriessen'' Fun Valley is an attractive park of 230,000 square metres and provided with the best facilities and the most diverse and sensational activities. The park is characterized by its unique location with scenic views. Here you can – among others- play paintball, lasergaming and visit the climbing park.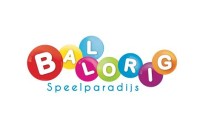 Playground Balorig ( refractory) Maastricht is ideal for a day out with the kids. Rain or sunshine? You can always play here. You can jump on the mega trampoline, cross on the track, spend some time in the ball pit and much more.
Back