Facilities
Camping site ''De Oosterdriessen'' offers spacious ( 90 square metres) and bordered pitches situated on various intimate fields which are provided with 6 amp electricity supply.
There are also special pitches without electricity which will certainly appeal to the more adventurous tent campers.
Dogs are not permitted on the waterside ( in or near the water) and on the playing fields.
Reception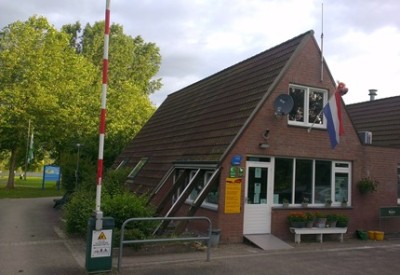 Would you like to explore the surroundings then you will find info relating to places of interest at the reception room. If you have special wishes, just let us know.
Opening times reception in the season: 9.00-11.00 / 13.00-17.30 / 19.00-19.45
Camping shop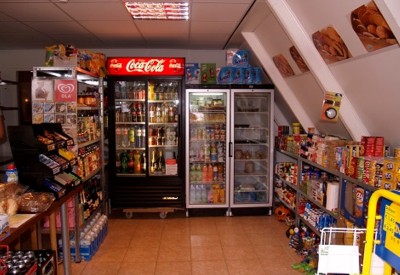 For your small errands we have a basic camping shop. There you also can buy rolls, croissants, French loaves and the original (!) Limburg flans. The shop also supplies camping gas ( blue), newspapers, icecream and tokens ( cash down) for the washing machines and dryers.
Bar & Terras - met Wifi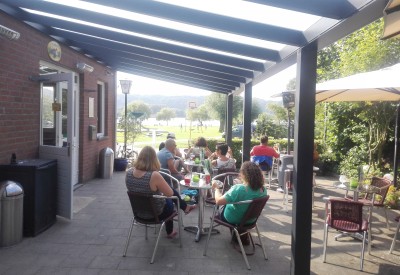 If you are not too tired at the end of the day, you are more than welcome in our café to have one for the road ( we don't have a warm kitchen, more information for restaurants nearby).
Inside and around our café Wifi is available (in- and outside). In the café you will also find books, games, darts and table soccer.
For the beerlover we've got a broad choice of burgundian beers!
Sanitary facilities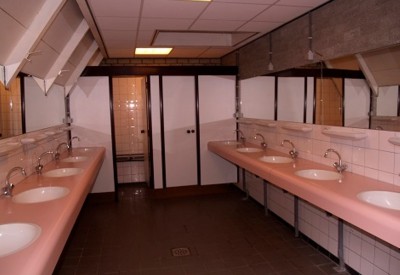 The sanitary facilities for gentleman is new sinds 2019. For the ladies is planed for 2021. Tokens for the showers are not required. After using the showers and other sanitary rooms please leave them behind in the state in which you would like to find and use them yourself.
Near the log cabins there is – from season 2014 on – an additional toilet facility. There is also a washing-up facility and a coin laundry with two washing machines and dryers. Tokens available in the shop. There is also a disposal unit for chemical toilets.
There is a specially adepted sanitary facility for handicapped persons. This facility is accessible via the pavement at the café. Ask for the special key at the reception.
Log-cabins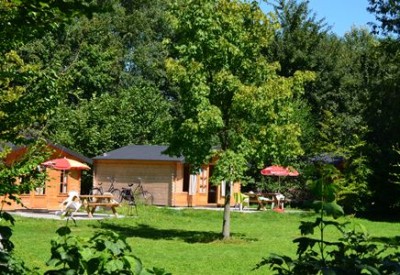 Logcabins unfortunately no longer available.
We have had 4 basically equipped log-cabins ( each 22 square metres) since 2013.
You can stay there for at least 3 nights.
They are situated bottom right on the camping plan/map.
Read more
Studio's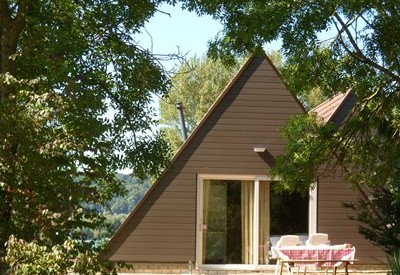 Studios unfortunately no longer available.
Next to the log-cabins there are 2 basically equipped studios.
These are meant for the campers who arrive without any camping gear /equipment.
These studios have their own, private sanitary facilities and a TV connection. One studio is suitable for 2 persons (backside) and the other can take in 4 persons(waterside).
Read more
Camper cars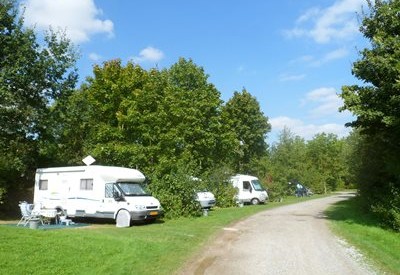 There are spacious and paved pitches for camper cars/motorhomes.
Since 2013 extended with an extra field ''white''.
On the central parking place the wastewater tanks of camper cars can be emptied into a dumping pit.
Read more
Playing facilities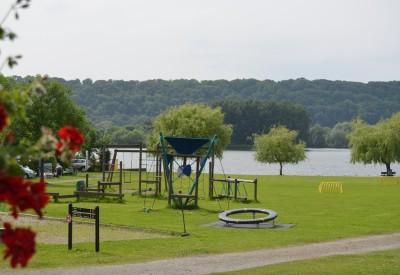 On several places on the campsite there are playing facilities for the children. On the large playing ground there are soccer goals, a facility for playing outdoor table tennis and basket ball.
You will also find playing appliances on the fields ''yellow'' and ''brown''. These fields are therefore very suitable for families with young children.
On ''gold'' there is also a jeu de boules ( pétanque) course so you can experience a southern (French) atmosphere there.
Ontspannen op het strand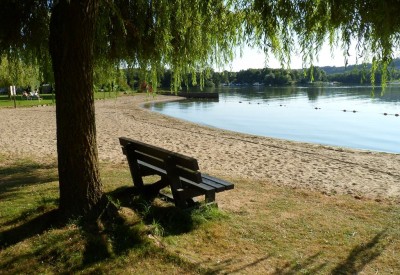 A private sandy beach is situated on the large playing lawn ''gold''. There you can find coolness on hot summerdays or – sitting on a bench – watch and enjoy the special sunsets.
We advise when you enter the water to pay attention for sharp rocks/shells.
There's no supervision!
Fishing
As an ardent angler you will also make the grade with us. Ask for a € 1 permit at the reception or in the camp shop. You can practise your hobby everywhere along the waterside but not on or from the beach.
Night-fishing is not permitted!
Eetgelegenheid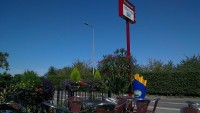 Outside the campsite – 100 metre directly on your right- there is an eating place where you can have a snack or a sumptuous dinner.
Chef Cherif and his team will be happy to oblige you.
You will find more eating places under the heading ''restaurants''.
Back